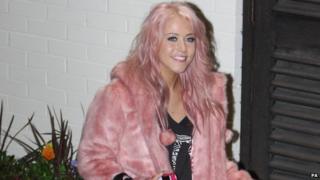 PA
A public vote on Saturday saw Amelia Lily return to the X Factor stage, while on Sunday an extremely close sing-off resulted in Kitty leaving the show.
In what the judges reckoned was the closest sing-off of the series, Misha B kept her place while Kitty was voted off by the judges.
Kitty's version of Over The Rainbow was not enough to save her. But she went out with a bang, grabbing the microphone off Dermot O'Leary.
She then sang her own version of Born This Way while Dermot looked rather unimpressed.
Last week, Frankie Cocozza was booted off after breaking competition rules.
It threw a lifeline to the four acts who had lost their places after the first live show.
With massive support from the public, Amelia Lily was voted back in and stormed the crowd with her version of the Queen classic The Show Must Go On.
Amelia Lily joins remaining acts Janet Devlin, Misha B, Little Mix, Craig and Marcus in the next round of the competition.