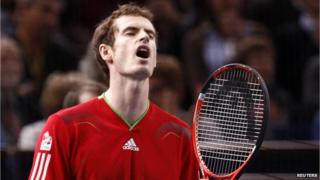 Reuters
Andy Murray's 17-match unbeaten run has come to an end in the quarter-finals of the Paris Masters.
The tennis ace won the first set against Czech player Tomas Berdych 6-4 but lost the final two 6-7 and 4-6.
It was a thrilling match with both players showing flashes of brilliance.
Andy's been on great form and has won an impressive six titles so far this year. But Berdych fought hard, coming back in the second set with some powerful hitting.
Andy was outstanding in the first set and looked on course for a place in the semi-finals.
But Berdych played some sublime tennis in the second set to take it into a decider.
In the final set Murray couldn't keep his cool and got into an argument with the umpire over some of his decisions.
Earlier in the day, the world number one seed Novak Djokovic had to pull out of his quarter-final match because of a shoulder injury.