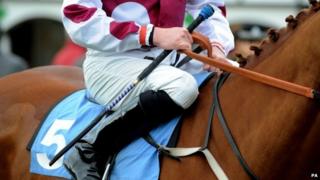 PA
Jockeys who use their whips too much won't be punished as severely after more changes to horse racing rules.
Racing officials recently limited the number of times jockeys can hit their horses, and imposed a five-day ban for anyone who ignores it.
But loads of trainers and riders complained so now the ban has been relaxed.
From 11 November, a rider who goes one strike over the whipping limit will be banned for two days, not five.
The number of times a jockey can use their whip during a race is seven in flat races and eight when racing over jumps.
As well as the ban, jockeys can also be heavily fined.
In the 2011 Grand National, winning jockey Jason Maguire was suspended for five days for whipping his horse too much. Under the new rules he would have to pay around £40,000.