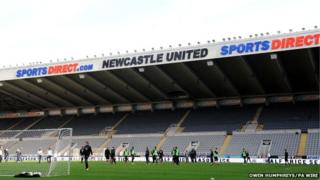 PA
St. James' Park, the famous home of Newcastle United has been renamed the Sports Direct Arena.
Newcastle United are doing the same as many other clubs and having their ground sponsored by big businesses.
They say this will help the club to make more money which they can spend on the football team itself.
Sports Direct Arena will be a temporary name until they can attract a new sponsor - not just for the stadium but for the kit as well.
The stadium at St James' Park has been there for nearly a hundred years.
Fans have been expressing their views. One said it was a "nightmare". Another said "it's just totally wrong".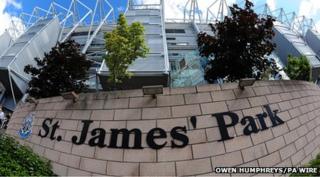 PA
But the Chief Executive Derek Llambias said the success of the team on the pitch is the most important thing. "I think the fans will come around eventually", he said.
Other football stadiums with sponsored names include Arsenal's Emirates Stadium, the Reebok at Bolton, and Manchester City's Etihad Stadium.