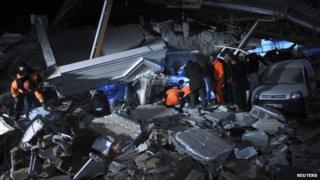 Reuters
Turkey has been hit by a second big earthquake in the same city in less than three weeks.
Rescue workers are searching through rubble for survivors after a 5.6 magnitude quake struck near the eastern city of Van.
Several buildings collapsed, including a hotel where rescuers who were helping after last month's quake were staying. At least seven people have died.
So far, 23 people have been rescued alive but many more are still missing.
Some of the people trapped inside the damaged buildings have been sending texts.
Emergency teams are sending supplies which include tents and blankets for survivors.
On 23 October, a 7.2-magnitude quake in the same area killed 600 people.
Thousands of people were made homeless and many are still living in tents in the cold weather.
Earthquakes are measured in magnitude, on a scale ranging from minor to great.
A magnitude of 6.0 and above is classified as strong and can cause severe damage.