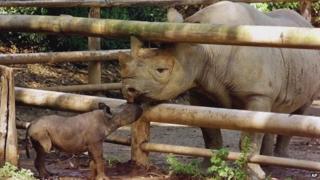 AP
Wild black rhinos have died out in West Africa, according to the latest study of the world's most endangered species.
Experts checked the status of thousands of species of plants and animals for the Red List of Threatened Species.
This year they found more under threat than ever before, with one in four mammals at risk of extinction
But there is some good news... The Przewalski horse, which was thought to have been wiped out in the wild more than 10 years ago, is back!
Conservation work
The list also highlights new areas that have been dedicated to conservation in Madagascar, where 40% of its reptiles are under threat.
As well as declaring the western black rhino extinct, the subspecies of the northern white rhino in central Africa has been listed as being on the brink of extinction.
The Zoological Society of London (ZSL), which helps compile research for the Red List, said the latest findings show a very mixed picture of what's happening to the world's species.
"There's some good news and some bad news," said Dr Monika Boehm.
"Unfortunately, the overall trend is still a decline in biodiversity. We still haven't achieved our conservation potential."