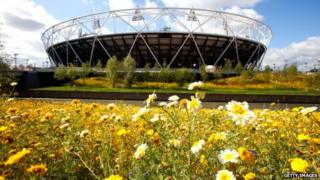 Getty Images
After two years of preparation, The London Olympic Park is finished, containing massive meadows and over 4,000 new trees.
It's the largest new urban park for over 100 years, next to the Olympic Stadium.
The organisers held a design competition to design the garden, and the two winners opened it with Blue Peter's gardener Chris Collins.
The park also contains meadows and fields larger than ten football fields.
The plan is that they will all contain colourful flowers by the start of the 2012 Olympic Games.
The planners also hope birds, otters, kingfisher, bees, and frogs will all come to live in the park.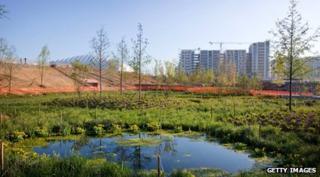 Getty Images
The land used to be railway tracks and weeds.
Now it contains 120,000 plants from around the world including Europe, Asia, and America.
Another section of the park contains over 300,000 wetland plants, which are plants that grow near water.
In the winter the park can be used for sledging and all year round it can be used for bike riding with about four miles of tracks.
It will be called the Queen Elizabeth Olympic Park.