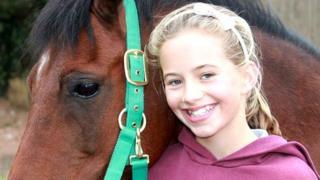 Other
A girl has raised thousands of pounds for charity by walking, cycling and horseriding on Remembrance Day.
Abigail, who's from South Wales, celebrated her 11th birthday on Friday 11th November 2011.
She had a target to raise £1,111.11, but ended up raising nearly £4,000.
She chose the charity War Child because of the connection with Remembrance Day.
War Child helps children whose lives have been badly affected by wars.
"It must be so frightening," she says. "Their homes get destroyed. They are separated from their mums and dads. The noise of war must be terrible."
Abigail's challenge took all day on Friday. She started before it was light and ended just as it was getting dark.
On Saturday she spent all day in her pyjamas!
Abigail set up her own challenge after being stopped from entering a charity mountain-climb, because the organisers said she was too young.