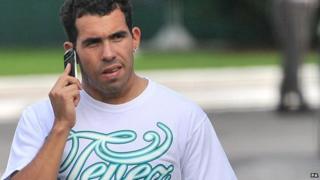 PA
For months it's been one of football's longest-running dramas, but it looks like Carlos Tevez's time at Manchester City could finally be up.
The striker now accepts he broke club rules by refusing to come off the subs bench during a Champions League match against Bayern Munich in September.
At the time, manager Roberto Mancini was furious and said he wanted him out. Tevez said it was a misunderstanding.
It's thought he will leave the club during the January transfer window.
Tevez hasn't played for City since starting in their 2-0 Carling Cup win against Birmingham in September, and hasn't scored all season.
Tevez joined City from Manchester United in 2009 and has scored 53 goals in 91 appearances for the club.
He first said he wanted to leave Eastlands in December 2010, but changed his mind a couple of weeks later.
In July, he said he wanted to leave again because it was too hard being so far away from his daughters, who live in Argentina with their mum.
A transfer deal with Brazilian club Corinthians fell through in the summer, but they said they still wanted him and hoped to agree something in January.