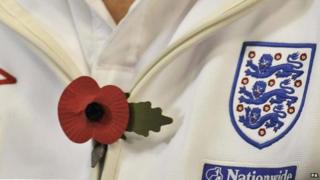 PA
Fifa has agreed that the England, Scotland and Wales teams can wear poppies on their black armbands during Saturday's friendly against Spain at Wembley.
The move came after Prince William and Prime Minister David Cameron wrote to Fifa asking that England be allowed to wear shirts embroidered with poppies.
Fifa had been saying no because it was against their rules.
Wales and England are going ahead with the plan.
Scotland are checking first with their opponents Cyprus.
England will still hold a minute's silence before their match against Spain on Saturday, which kicks off at 5pm.
Poppies are worn to remember those who died fighting to protect their country.
Lots of people were angry that the players couldn't have the embroidered poppies on their kit.
Prime Minister David Cameron had called Fifa's decision "outrageous".
"Wearing a poppy is an act of huge respect and national pride. I hope Fifa will reconsider," he said.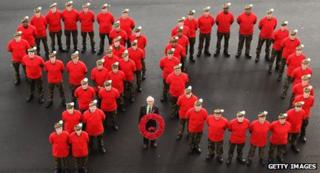 Getty Images
Fifa's rules normally say players' shirts cannot have commercial, religious or political messages on them.
The sport's world governing body said that if England were allowed to wear the poppy, other countries might want to put their own slogans on their shirts.
But the latest agreement from Fifa means that poppies will be seen on the pitch after all.
England and Wales' rugby league players will also be wearing poppies this weekend, along with the other two teams - Australia and New Zealand - involved in the Four Nations.
Your comments:
"I think they should wear poppies as it reminds them of people who have died and it reminds them of the people that are fighting now. I am sure the other teams would not mind as people have been showing their respect and wearing poppies for years."
Meg, 9, Shropshire, England
"Fifa obviously have no idea what Remembrance Sunday is all about. Because it is not a political symbol, or a religious symbol, and it's not even a commercial symbol as you don't have to buy anything, you donate money! I think they should be allowed as it is a sign of respect!"
Kimberley, 12, East Sussex, England
"They should be allowed to wear poppies. It remembers brave people who risk their lives for us. It is not for commercial or political or a religious meaning. I don't think other countries would want to complain about this."
Josh, 9, County Antrim, Northern Ireland
"They should be allowed to wear poppies because it is celebrating all the good people who gave their lives for England."
William, 11, Loughborough, England
"I think they should only wear poppies when they come out and then take them off when they play their match because the pins are dangerous."
Chloe, 13, Lincolnshire, England
"I think that they should wear poppies to remember people who died in the war and wear them at matches because it wouldn't be very nice to forget them."
Ellie, 8, Cumbria, England
"I don't find this fair; footballers should be able to wear a poppy to show their respect."
James, 13, Manchester, England
"I think they should wear poppies, they can have it embroidered then it will be safe."
Charlotte, 7, Cumbria, England
"On Remembrance Day they should not wear a poppy because they might not think about the football."
Isabelle, 7, Cumbria, England
"I think they should be allowed to have poppies on their kit as it remembers the people who risked their lives in war to protect ours."
Lilly, 12, Kent, England
"I think they should wear poppies but only the ones sewn on. The pin ones are dangerous."
Lauren, 8, Brighton, England
"They shouldn't wear poppies because it isn't fair on other teams. I agree with Fifa."
Phoenix, 8 (nearly 9), Brighton, England
"I think they should wear poppies because it remembers the people who have died."
Kimberley, 8, Brighton, England