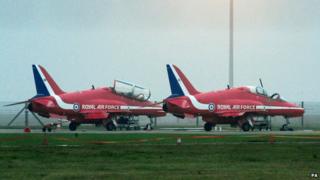 PA
A Red Arrows pilot has died after being ejected from an aircraft in Lincolnshire.
34-year-old Flight Lieutenant Sean Cunningham was accidentally ejected from a Hawk T1 jet while it was still on the ground at RAF Scampton.
The authorities have begun an inquiry to find out exactly what happened.
The RAF has stopped all "non-essential" flights with aircraft that have the same kind of ejector seats fitted inside them.
People near RAF Scampton on Tuesday told the BBC they heard a loud bang and saw a damaged Hawk aircraft on the ground.
The Red Arrows is a famous flying team which performs air displays with their Hawk jets. They have completed more than 4,300 displays in 53 countries.
The rest of the team have suspended their winter training at RAF Scampton.
The RAF says their thoughts are with the pilot's family.