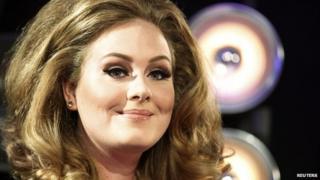 Reuters
Grammy winner Adele has had throat surgery in the US to end a damaging problem which stopped her from singing.
She went to a specialist Voice Centre in Massachusetts, America, where she had laser micro-surgery to fix the problem.
She carried on touring, even though she had been suffering from health problems for a while.
But she was eventually forced to cancel gigs in the UK and America after the throat problems got worse.
Adele is expected to make a full recovery, but doctors have told her to rest her voice until the end of the year.