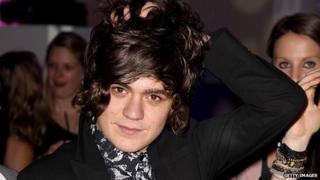 Getty Images
X Factor finalist Frankie Cocozza has left the show.
The X Factor organisers say he has left after "breaking competition rules".
Frankie made a statement giving an apology to his mentor Gary Barlow, his fellow contestants and "everyone who has voted for me".
He added "My behaviour off stage has over-stepped the rules of the competition. I no longer deserve my place in the show, so I am therefore leaving."
Frankie made the headlines from the very first time he appeared on the 2011 series of The X Factor.
His behaviour off-screen was often in the headlines for the wrong reasons.
Gary Barlow said: "Frankie has apologised publicly as well as personally to me and the producers for his actions that lead to him leaving the show.
"I'm hugely disappointed that he's thrown away an opportunity like this after working so hard to get here."
Now that Frankie has left, the makers of The X Factor say they will make an announcement on Wednesday about their plans.