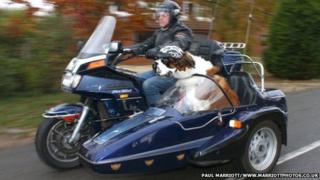 Other
A dog who doesn't like being left at home alone has taken pride of place in the sidecar of his owner's motorbike.
Harley, a 17-month-old St Bernard travels with his owners Alan and Tina Valkeith. They bought the bike because he's too big to fit in their car.
He wears a special helmet, harness and 'doggles' when he travels on the bike.
Alan and Tina realised they could no longer go out on their motorbikes together, as one of them had to stay at home to keep the dog company.
"Buying the bike with a sidecar seemed like the ideal solution," Mr Valkeith said.
Having rebuilt a safety harness he then bought ultra violet-protective dog goggles - which he said were known as "doggles" - to shield Harley's eyes from the sun and wind.
"He really does love it," said Alan.