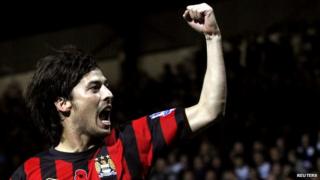 Reuters
Manchester City are top of the Premier League for the second week running, after beating QPR 3-2 on Saturday.
Manchester United stay second with a 1-0 home victory over Sunderland, achieved on the same day Sir Alex Ferguson celebrated 25 years in charge.
Third place Newcastle stay unbeaten after a 2-1 thriller against Everton, featuring a stunning Ryan Taylor goal.
Robin van Persie helped Arsenal thump West Brom 3-1 while Chelsea snatched a 1-0 away win at Blackburn.
But Liverpool held newcomers Swansea to a disappointing goalless draw at Anfield.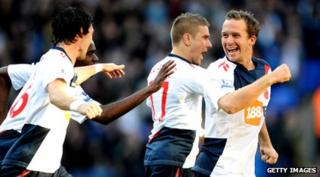 Getty Images
The really big news on Sunday was Bolton's massive 5-0 thrashing of Stoke, their first home win this season. Fulham were beaten 3-1 at home by Tottenham, despite Spurs boss Harry Redknapp being away recovering from a hospital operation.
There were also wins for Wolves against Wigan, and Aston Villa against Norwich.