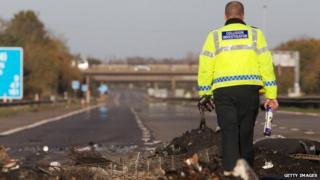 Getty Images
Police in Somerset say they're looking at whether smoke from a fireworks display could be partly to blame for one of the UK's worst motorway crashes.
Seven people were killed and 51 injured in the 34-vehicle smash on the M5 motorway on Friday night.
There were reports of fog in the area at the time, but it's thought smoke from a nearby fireworks display could have made driving conditions worse.
Organisers of the display say they will work closely with police to help.
Part of the M5 motorway had to be closed for more than a day after the crash.