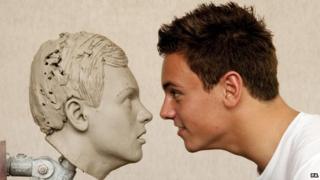 PA
Teenage diver Tom Daley is facing a new challenge - modelling for his waxwork!
A new statue of Tom is being created for Madame Tussauds in London, and the diver has sat for sculptors several times so they can create the figure.
The waxwork will show the 17-year-old in the middle of a diving position.
Tom, who's from Plymouth in Devon, said it had been an interesting experience.
"I can't wait to see the finished piece next year," he said.
"It will be very funny standing next to my wax twin."
The waxwork will be unveiled in February next year, just in time for the London 2012 Olympics.