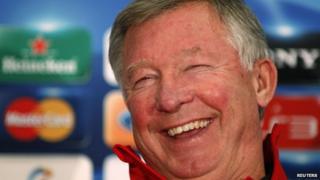 Reuters
Manchester United boss Sir Alex Ferguson celebrates 25 years as the club's manager on 6 November.
Since moving to Old Trafford from Aberdeen in 1986, he's won loads of trophies, and made his fair share of headlines.
And it seems he wouldn't change a thing, describing his time in charge as being "a bit of a fairytale".
"It has been a fantastic spell for me. It is something you don't think is going to happen and I appreciate that."
Trophies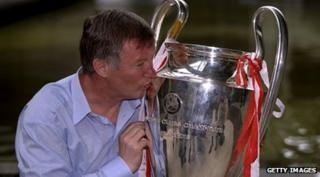 Getty Images
12 Premier League titles

2 European Cups

5 FA Cups

4 League Cups

10 Charity/Community shields

1 Cup Winners' Cup

1 European Super Cup

1 Intercontinental Cup

1 World Club Cup
What other people say
"The boss defends his players to the hilt and that's why he gets great respect from the players. They know they can trust him 100%. It is something on which the whole foundations of this club are built."
Manchester United defender Rio Ferdinand
"He achieves one thing and then, as they say, moves on to the next mountain and the next mountain is higher and that's what he does. He has built four or five successful teams and that proves how great he is."
Ex-England manager Sven-Goran Eriksson
"The success that the boss has had in the last 25 years has been incredible. I've been lucky to have been part of that for 11/12 years. To have played under a manager like Sir Alex Ferguson, any player dreams of that..."
Former Manchester United player, David Beckham
"He is the best manager of his generation for me. I just know he is a special, special man - I knew he would be a success at United - absolutely no danger."
Former Manchester United midfielder Gordon Strachan