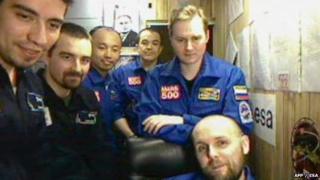 AFP
Six men who've been locked in a fake spaceship for 18 months, on a pretend mission to Mars, have come out of isolation.
They've been living in the sealed container in Moscow, Russia, since June 2010 to see how people would cope on a long space flight to the Red Planet.
A real journey to Mars would take about eight months.
The Mars500 project has been designed to be as realistic as possible, including a pretend landing.
The spaceship is made up of five steel containers but had no windows.
One of the containers was designed to look like Mars, covered in rocks and sand.
About half-way through the mission, three of the crew pretended to land on the surface and walk about on it while wearing heavy space suits.
Leaving the spaceship isn't the end of the mission for the crew, who are from Russia, Europe and China.
They've been taken into quarantine for three days of medical tests, to see how they've coped with the experiment.