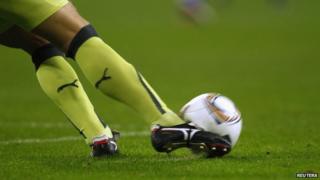 Reuters
It was a mixed bag of results for British teams in the Europa League on Monday night.
Celtic delighted manager Neil Lennon with their first European win of the season, beating French side Rennes 3-1.
The biggest win came at Craven Cottage, where a great goal from Andrew Johnson helped Fulham beat Wisla Krakow 4 -1.
Stoke are one point off the knockout stages thanks to a 2-1 win over Maccabi Tel-Aviv. But it was a bad night for Spurs, losing 1-0 to Rubin Kazan.
Elsewhere, goals from Jean Bosa-jour and Marlon King saw Birmingham escape with a point in a 2-2 draw with Bruges.