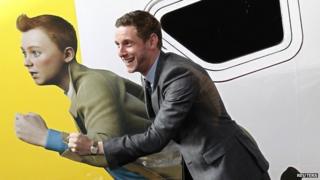 Reuters
The storyline of the second Tintin movie hasn't been decided yet, according to the writer.
Earlier this year Anthony Horowitz said the sequel would be based on the Tintin story Prisoners Of The Sun, but he now says it's still being discussed.
The Adventures of Tintin: The Secret of the Unicorn is currently top of the UK and Ireland box office and stars the actor Jamie Bell.
The film uses motion capture technology to create life-like animations.
Anthony, who wrote the Alex Rider series of spy novels, will be writing Tintin 2, while Peter Jackson, who produced the first film, will direct.
"I've had meetings with the directors and producers and we've talked about ideas and action sequences," said Anthony.
"At the moment I'm trying to put together a story that will please everybody. It's a very difficult one to do."
The screenplay for the first film was written by Steven Moffat, Edgar Wright and Joe Cornish.
Peter Jackson is currently working on The Hobbit and also directed the Lord of the Rings trilogy.