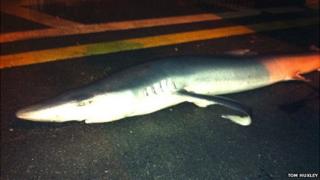 Other
Animal experts are baffled by how a shark managed to reach a road on a seafront in Wales.
The dead shark was discovered lying near double yellow lines on the road in Aberystwyth.
Animal charity, the Shark Trust think that it's unlikely the 1.2m (4ft) blue shark was washed up.
John Richardson, who's from the Trust, said larger sharks are usually found 15 to 20 miles further out to sea.
"They are one of the more common larger sharks in British waters," he said.
"They usually grow to about 4m in length, so the one found on the road probably wasn't a mature shark."
The shark was discovered on 24 October by a man on his way home, but it had disappeared after a few hours.
Mysteriously, the local police say they didn't move the animal.