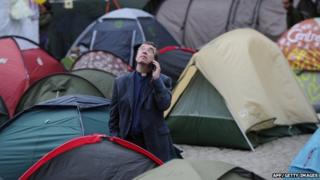 AFP
Protesters camping outside St Paul's Cathedral in London, say they're considering an offer to allow them to stay until the New Year.
The local council and cathedral bosses considered taking legal action to force them to leave but changed their minds.
The protesters have been told if they stay they need to slightly reduce the number of tents to allow access for fire engines if there's an emergency.
They're demonstrating about the way banks and governments use money.
This includes everything from banks making too much money, to government spending cuts.
St Paul's has nothing to do with the protests but because it's near London's Stock Exchange, where banks and money organisations are based, the demonstrators feel it's a good place to get their message across.
Since the protests started, cathedral bosses have been criticised for the way they've handled the dispute. As a result, some have since quit their jobs there.