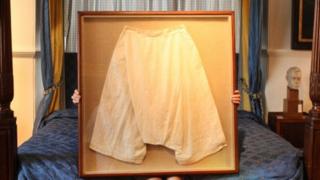 PA
A pair of pants that used to be owned by Queen Victoria have been snapped up at auction for thousands of pounds.
A mystery bidder paid £9,735 for the large silk bloomers at an auction in Edinburgh.
The underpants were on sale with other Royal belongings, including a pair of the Queen's silk stockings, which sold for more than £5,000.
All of the items were owned by a family called Forbes, who publish magazines in the US.
Two paintings owned by Queen Victoria, who was Britain's longest serving monarch, were also sold for more than £500,000 each.
The sale included more than 500 royal paintings, letters, furniture and other items from the Forbes home.
The auction made more than £3m in total.