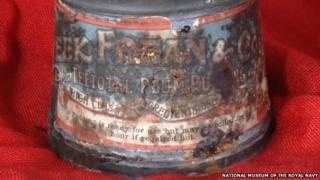 Other
A 111-year-old Christmas pudding found in the back of a cupboard in Dorset is believed to be the world's oldest.
The limited edition tinned treat was one of only 1,000 sent to Royal Navy personnel in 1899.
The woman who uncovered it at her home said the tinned "Peek, Frean & Co's Teetotal Plum Pudding" had been in her late husband's family for years.
It's thought to have been ordered by Agnes "Aggie" Weston, who was famously kind to sailors during the Boer War.
The pudding's decorative tin carries the message: "For the Naval Brigade, In the Front, With Miss Weston's Best Christmas & New Year, 1900, Wishes."
The family who owned the pudding have now donated it to the National Museum of the Royal Navy.
The museum's collections manager, Victoria Ingles, said: "It is quite remarkable that the pudding has survived for over 100 years.
"It is the only example we know of issued to the Naval Brigade still in existence and quite possibly the oldest surviving Christmas pudding, too," she said.