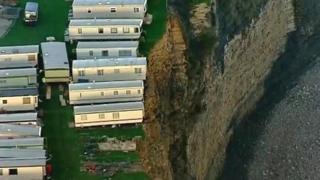 Other
Several caravan owners had a lucky escape when part of a cliff in south Wales crumbled away, leaving them teetering near the edge.
The landslip happened at Porthkerry Leisure Park, in the Vale of Glamorgan on Monday night.
No-one was hurt and work is now under way to move the caravans to another part of the site, further inland.
One caravan owner said a stretch of land about three metres wide and 180 metres long had disappeared.
"The front of the cliff has just fallen away," he said. "A crack has appeared and all the wind and the rain has got down behind it, and washed it all away."