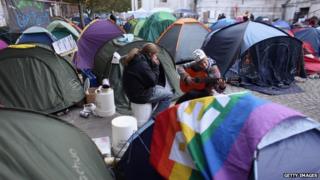 Getty Images
Protesters who've been camping outside St Paul's Cathedral for two weeks will be ordered to leave on Tuesday.
They'll be told they've got 48 hours to clear the London churchyard, or face being taken to court.
The protesters, who are angry about the way banks make and spend money, say they're preparing to respond.
On Monday, the Rt Rev Graeme Knowles quit as one of the cathedral's bosses because the church has been criticised over the way it's handled the dispute.
During the protests, St Paul's had to close its doors for a week for the first time since World War II.
St Paul's has nothing to do with the demonstrations but it's near London's Stock Exchange, where banks and money organisations are based.
So protesters have camped outside to show they want banks and governments to change they way they use money.