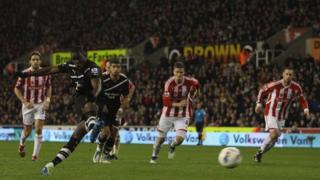 Getty Images
Newcastle United have overtaken Chelsea to go third in the Premier League, thanks to a 3-1 win against Stoke City.
Demba Ba was man of the match, scoring his second hat-trick of the season against the club who turned down a chance to sign him earlier this year.
The Magpies have only let in seven goals in their past 10 games, and are now just one point behind current champions Manchester United.
As for Stoke City, the defeat was their first loss at home this season.