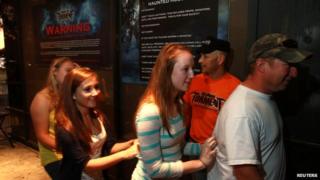 Reuters
Most people treat Halloween as a time to have fun, but a growing number in America are paying money to get people to scare them!
More and more people in America are spending money visiting 'haunted houses' for fun.
But they're not actually haunted at all.
They're attractions a bit like some rollercoasters, where people pay to have a frightening experience.
Visitors pay to walk around and be frightened by actors in scary costumes who jump out in front of them.
"It's the adrenalin rush," said one American visitor Matt Neumann, "that's what I get out of it".
Seaside towns in the UK have always had ghost trains and 'crooked houses', but in the USA it's become very big business. Americans spend over £1billion on Halloween costumes alone every year.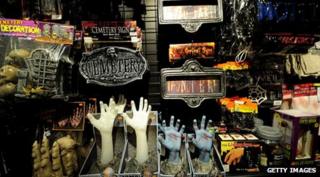 Getty Images
Haunted houses first started there about forty years ago, and there are now more than 2,000.
The idea is beginning to catch on in the UK. The chat show host Jonathan Ross has a big Halloween party every year which includes haunting but fun attractions.
Matt Page designs those attractions for his job, and says: "People love being scared. They crave excitement."
Experts say it's ok to have short experiences of being scared, as long as people know they will be safe in the end.