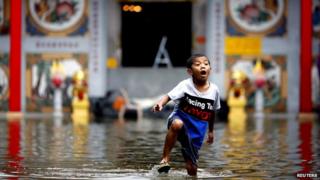 Reuters
Thailand's capital Bangkok appears to have escaped the worst of the country's floods, according to officials.
But areas outside the centre of the city are still badly affected.
The Prime Minister of Thailand has said it could take three months to clear.
Everyone had been waiting to see what would happen with the floods over the weekend.
The river banks held firm with the help of thousands of sandbags beside them.
Charities who work with residents say they will need help for weeks to come.
People who live outside the city are angry because they are still having to cope with deep water. They feel their needs have been ignored in the efforts to protect the city centre.
Officials hope the flood waters will flow away into the sea, but experts say that will take weeks. Only then will people be able to tell how much damage has really been done.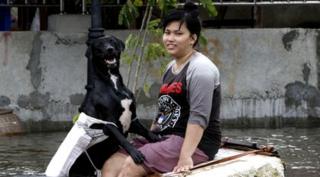 Reuters