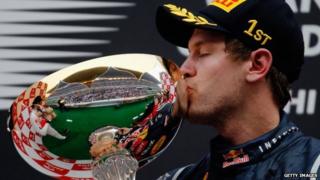 Getty Images
Formula One champion Sebastian Vettel has won the first Indian Grand Prix.
The Red Bull driver led from the start to take his eleventh win of the season, while Britain's Jenson Button battled Fernando Alonso to finish second.
But it was another disappointing race for Lewis Hamilton. He came seventh after a collision with Felipe Massa - their sixth this season!
This time, Massa was punished after Hamilton hit his Ferrari as he tried to overtake and move into fifth place.