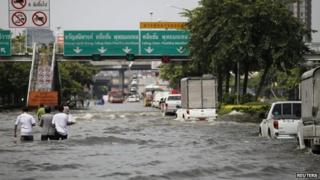 Reuters
Water levels in the capital of Thailand have continued to rise as many people try and flee the floods.
Roads have been jammed as residents used a five-day emergency public holiday to get out of Bangkok.
Officials are warning the situation could get worse as the tide is due to peak on Saturday.
The combination of water running into rivers from the flooded areas and the high tide could lead to riverbanks breaking.
Water is flooding into northern areas of the city, but the centre of Bangkok remains mostly dry for now.
Heavy monsoon rains have been causing flooding in the country since July.
More than 370 people have been killed and a third of the country has been affected.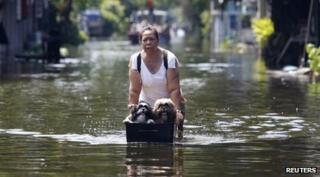 Reuters
Water even flooded the streets around the Grand Palace, the former home of the Thai royal family.
One airport that's used for flights around the country has shut as the runway is underwater.
The holiday, which was declared in Bangkok and the 20 provinces hit by the floods, will end on Monday.
Newsround spoke to a man who lives in Bangkok and has been handing out food, water, medicine and candles to people in need.