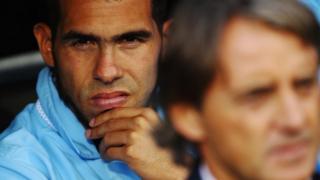 Getty Images
Manchester City have cut Carlos Tevez's fine after a football association refused to support it.
Tevez was initially told to hand over a month's pay after he was found guilty of refusing to play in a Champions League match.
But the Professional Footballers' Association (PFA), which stands up for players' rights, said a two-week fine was the maximum amount allowed.
The PFA backs Tevez's claim that he refused to warm up for the match.
But Man City says he broke five rules in his contract during the game against Bayern Munich in September.
Tevez insists that none of the reasons given by City for his fine are correct.
It's also rumoured that the Man City star could sue his former boss Roberto Mancini for comments he made after the match.
What Mancini said could be classed as defamation, which is when someone says something that damages a person's reputation.