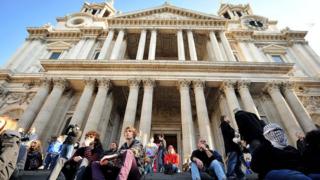 St Paul's cathedral to reopen
St Paul's cathedral will reopen to the public tomorrow, even though there are still protesters camped outside the building.
The cathedral had to close its doors for the first time since World War II last week, after it was said protests surrounding the building could be unsafe to the public.
But the protesters have now cleared a pathway and removed bicycles chained to the building's railways, so it's not as crowded as before.
The cathedral will reopen tomorrow afternoon.
The protests have nothing to do with St Paul's itself. They're demonstrating because the cathedral is near London's Stock Exchange, where banks and money organisations are based.
Protesters are unhappy with the way banks and governments around the world are using and spending money, and they want things to change.
The closure has meant the cathedral - which doesn't get any money from the government - has lost around £20,000 a day.
Normally, cathedrals like St Paul's are open all the time, and welcome anybody who wants to visit.
The building is popular with tourists and school trips.