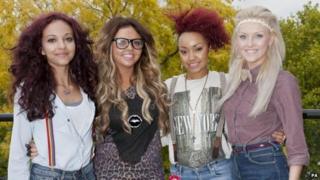 PA
X Factor group Rhythmix have been renamed after a charity with the same name threatened to take legal action.
The four girls said they chose the new name, Little Mix, after talking about it with their mentor, N-Dubz singer Tulisa Contostavlos.
They said: "When we came up with the name Rhythmix, we had no idea that there was a charity with the same name.
"We decided to change our name to Little Mix as we do not want to cause any problems for the charity."
The change of name didn't seem to cause any problems on Saturday's X Factor, and the girls were voted through to the next round.
The Rhythmix charity is based in Brighton, and works with disabled and vulnerable children.
People at the charity were worried about the possible name confusion, so they used legal experts to write to Simon Cowell.
When two organisations can't settle an argument, they sometimes have to take what's called legal action.
This means getting law experts to sort out the argument for them. Sometimes it's resolved by one organisation having to pay money to the other.
The Rhythmix dispute was settled by the band deciding to change their name.
The members of Little Mix said: "We're happy that this has now been resolved... we're the same girls as we've always been and we want to thank all of our fans for their continued support of us."