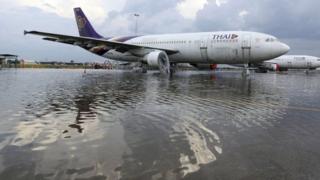 Bangkok floods 'could get worse'
The Prime Minister of Thailand has warned there could be more flooding in the country's capital city, Bangkok.
Prime Minister Yingluck Shinawatra said that all parts of the capital were vulnerable and up to 1.5m (5ft) of water could flow into some areas.
Thailand has been hit by the worst floods in 50 years and one airport has been forced to close after water ran onto its runways.
Flights around the country from Don Muang airport have been stopped.
The airport, in north Bangkok, was also being used as an evacuation shelter for people whose homes were underwater, but they've now been moved as there are fears the water levels could rise.
Since July heavy monsoon rain has left more than 360 people dead and around 100,000 have been forced to leave their homes.
At the moment most of Bangkok is dry, but high tides and rainwater running into the sea could break the city's flood defences.
A third of Thailand's provinces have been affected by the flooding and some parts have been under two to three metres of water for up to three months.
The country has declared a five-day holiday from Thursday in the worst hit areas to try and help people cope.
Schools will close and families are being urged to head for higher ground or leave the city if they can.