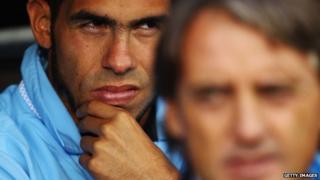 Getty Images
It's rumoured that that Man City striker Carlos Tevez may sue his manager Roberto Mancini.
It comes after the club decided that Tevez was guilty of breaking his contract with them.
Tevez was fined four weeks' wages by City on Tuesday - that's around a million pounds.
The club said he'd broken five different rules in his contract, during a recent Champions League match against Bayern Munich in Germany.
The row started after claims that Tevez refused to warm up as a substitute in match last month.
A club investigation found him guilty of refusing to play, but Tevez denies this.
The striker has been advised that the comments Mancini made after the match could be classed as defamation, which is when someone says something that damages a person's reputation.
Officials at Man City told BBC Sport that the club didn't want to comment, but added that the club's owner Sheikh Mansour and chairman Khaldoon Al Mubarak are supporting Mancini.