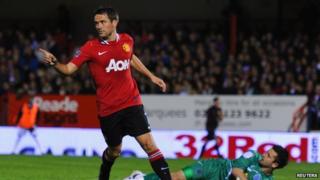 Reuters
Manchester United are through to the quarter-finals of the Carling Cup after beating Aldershot 3-0.
After being thrashed 6-1 by Manchester City at the weekend United recovered their form by changing their side after Sunday's defeat.
Dimitar Berbatov scored the first goal before half time and Michael Owen added another, while Antonio Valencia smashed one in after the break.
Aldershot had some good chances but failed to score.
Elsewhere Arsenal also made it through to the last eight of the Carling Cup after a win against Bolton.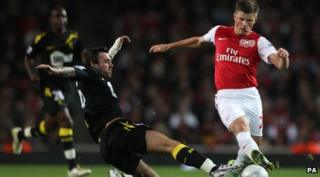 PA
Fabrice Muamba's goal meant that Bolton took the lead, but Andrey Arshavin soon equalised.
The Gunners' Park Chu-Young scored the winner at the Emirates Stadium, the final score was 2-1.
Cardiff City also made it to the quarter finals for the first time since 1965.
The Bluebirds beat Burnley 1 - 0 thanks to a goal from Joe Mason after 40 minutes.
In League One Charlton played Wycombe on Monday and managed stay on top of the table.
Charlton's Bradley Wright-Phillips scored twice to beat Wycombe 2-1.
While in Scotland Falkirk reached the Scottish League Cup semi finals after a penalty shoot-out win against Dundee United.
The two teams drew at 2-2, but Falkirk won 5-4 on penalties.