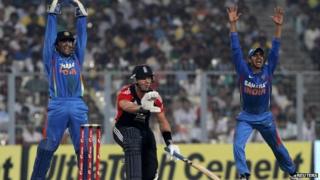 Reuters
The captain of the England cricket team has said that they were "blown away" by India during the final match of the series.
England lost by 95 runs after collapsing from 129-0 to 176 all out on Tuesday, meaning the team suffered a 5-0 series whitewash.
Captain Alastair Cook said it was a "bit of a shock" to lose but admitted the team hadn't batted well.
This was the third 5-0 series defeat for England in one-day internationals.
They lost twice to India in 2008 and 2011 and against Sri Lanka in 2006.
England have only won one of their last 18 one-day matches against India on Indian soil.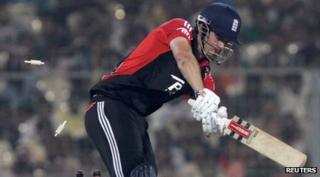 Reuters
Batsman Kevin Pietersen didn't play in the game after a stray ball hit his hand and fractured his thumb.
The England & Wales Cricket Board said Pietersen wasn't going to play before the accident as he'd already suffered an injury on his left hand during England's match on October 23.
England will next play India on Sunday in a Twenty20 match.