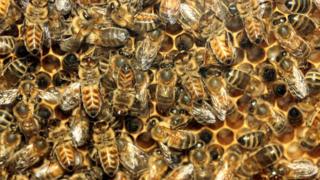 About 20 million bees were set free after a lorry carrying them overturned in Utah in the United States.
The bees were being taken to California so they could pollinate an almond crop next spring, but they escaped after the accident.
Local beekeepers worked through the night to capture the bees, but most were lost or died.
People think that the accident happened when the driver lost control of the lorry, which rolled over.
The driver and his wife were swarmed by the bees, but managed to escape with just bruises and a few stings.
The trip was among the last of 160 truckloads of bees being sent south from a honey farm in South Dakota.
The highway has now reopened but drivers have been warned to keep their windows closed.