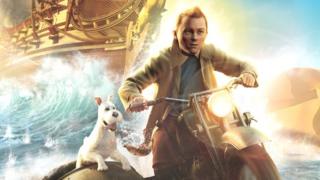 Other
Tintin is a young curious reporter who will stop at nothing to uncover a mystery, catch a criminal and get his story.
Now for the first time, Tintin has been made into a feature film. He was first around in TV cartoons and comic books going all the way back to the 1920s!
When's it out?
28th October 2011.
The plot
It doesn't take long for Tintin to get into trouble when he stumbles across the tale of a mysterious ship called the Unicorn.
Teaming up with bumbling detectives Thompson and Thomson and his new-found friend Captain Haddock, they must outwit the scheming villian, Ivan Ivanovitch Sakharine who thinks they have stolen the secret that will lead to an ancient treasure.
The stars
Jamie Bell plays the role of Tintin and teams up with Captain Haddock played by Andy Serkis (who played Gollum in Lord of the Rings).
Though it might be hard to spot them, because all the characters don't look much like the actors - the filmmakers decided to make all the characters look like they did in the original comics!
Even though Thompson and Thomson are identical in the film, they're played by Simon Pegg and Nick Frost who look very different in real life, but are just as funny!
Hit or miss?
A brilliant hit! It's filled with kidnapping, sword fights, ancient curses, priceless treasure and high speed chases. If you like action films with comedy and mystery along the way then you will love Tintin.
The 3D in this film is also some of the best we've seen. From the storm and the waves in a pirate's sword fight, to the dust in the old manor house. It all looks great in 3D.
This film is pretty loyal to the original Tintin comics and as a result it's a fantastic film with hopefully, many more to come!
NR rating: 5 out of 5