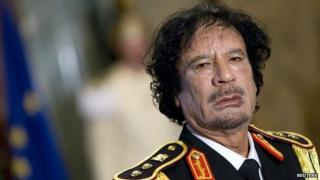 Reuters
The former leader of Libya Colonel Muammar Gaddafi has been buried at a secret location in the desert.
The new rulers of the country, the National Transitional Council (NTC), said he was buried alongside his son Muatassim and the country's former defence minister at dawn.
There was uncertainty about what to do with the bodies.
Col Gaddafi's family wanted him buried outside of his hometown of Sirte, while NTC officials wanted a secret burial.
There were also fears a public grave could become a shrine for people who supported Col Gaddafi or it could become a target for people who opposed his regime.
Gaddafi was badly wounded in an attempt to capture him on October 20 and died shortly afterwards.
His body was being stored in a meat storage warehouse, where it had been on public display.