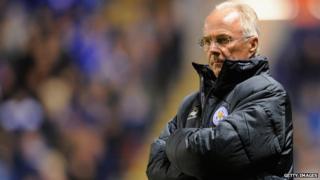 Getty Images
Former England boss Sven-Goran Eriksson has left his job at Leicester City.
The team has had a difficult start to the season, winning only five out of 13 league games, despite spending around £10 million on new players.
The club said the decision to part ways had been mutual.
Sven joined the club in October 2010 as manager, after leaving his job managing the Ivory Coast at the 2010 World Cup in South Africa.
Leicester City's latest defeat was on Saturday when they lost 3-0 to Millwall.
First-team coach Derek Fazackerly has also left the club, which will now be managed by Academy director Jon Rudkin and coach Mike Stowell.
Sven managed the England team from 2001 to 2006.