Rescue teams are searching for survivors after a strong earthquake hit the east of Turkey on Sunday.
Tremors were felt in the Van region of the country and hundreds of buildings fell in the town of Ercis after the 7.2 magnitude earthquake.
At least 366 people are known to have died and over 1,300 were injured in the quake, but the number of people killed is expected to rise.
Turkey is vulnerable to earthquakes as it sits on geographical fault lines.
Rescue teams with sniffer dogs worked through the night to search for people trapped under the rubble.
Many people have had to sleep outdoors in freezing weather without heating and tents.
The earthquake struck at a depth of 20km (12 miles), with its epicentre 16km north-east of Van.
It was followed by a series of powerful aftershocks, including two of magnitude 5.6 after the quake and one of 6.0 late on Sunday. There were hundreds more aftershocks carrying on into Monday.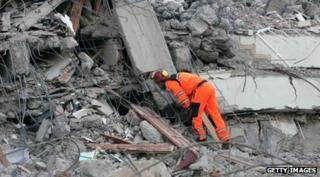 Getty Images
Earthquakes are measured in magnitude, on a scale ranging from minor to great.
A magnitude of 6.0 and above is classified as strong and can cause severe damage.
The Christchurch earthquake in New Zealand in February was 6.3 and the Japan quake in March measured 8.9.