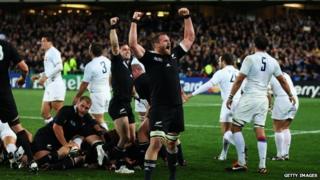 Getty Images
New Zealand are rugby world champions for the first time in 24 years.
The All Blacks beat France 8-7 in the Rugby World Cup final, at Eden Park in Auckland, New Zealand.
Tony Woodcock's early try and a penalty from fourth-choice fly-half Stephen Donald ensured that the All Blacks beat the French by just a single point.
It was a tense match as France nearly closed the gap after captain Thierry Dusatoir scored a try by the posts in the last 30 minutes of the game.
But François Trinh-Duc missed a long-range penalty meaning the All Blacks clung on for victory on Sunday.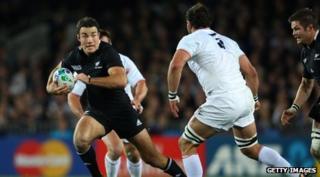 Getty Images
Fireworks marked the end of the tournament and fans cheered as the team recieved the Webb Ellis Trophy.
The All Blacks have now set off on a three-day victory tour, starting in Auckland on Monday, before moving on to Christchurch on Tuesday and Wellington on Wednesday.