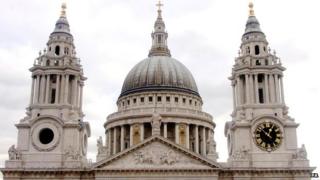 PA
People in charge at St Paul's Cathedral have said the building is losing a lot of money because of the protests that continue to go on outside.
The building closed its doors for the first time since World War II last week because of demonstrations taking place there.
They've been going on for nine days.
The protesters are demonstrating because the cathedral's near London's Stock Exchange, where banks and money organisations are based.
They have now set up another camp in a different part of London so that there aren't too many people outside the cathedral.
They're unhappy with the way banks and governments around the world are using and spending money, and they want things to change.
St Paul's 'losing money'
The cathedral is said to be losing between £16,000 and £20,000 a day because it has to stay closed.
Reverend Rob Marshall said: "The cathedral needs around £20,000 a day to stay open."
He said it had been a "difficult week" for St Paul's, but that they haven't fallen out with the protesters camped outside.
He said they're still talking to them and asking them to move away peacefully.
Normally, cathedrals like St Paul's are open all the time, and they make a special effort to welcome anybody who wants to visit.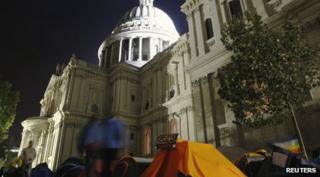 Reuters
St Paul's is particularly popular with tourists and school trips but it had to close to members of the public after a service on Friday afternoon.
The protesters are copying demonstrations which started in New York a week ago, which spread through Europe and into Asia.