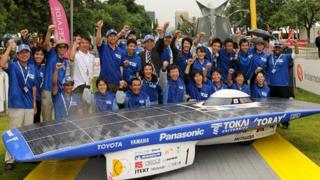 Solar power car race won by Japan
A solar powered car designed in Japan has won an epic race across of of Australia's harshest landscapes.
The team from a university near Tokyo, beat thirty seven other cars from twenty one countries to claim the victory.
The travelled over 1,800 miles over remote highways dodging the odd kangaroo, camel and even a bushfire.
Starting in Darwin in the north, it took them five days to cross the finish line in Adelaide in the south.