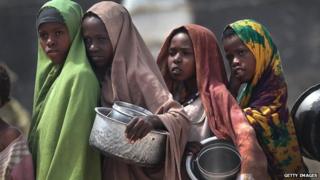 Getty Images
Children remain badly affected by the continuing drought crisis in Somalia.
A British official says more than 400,000 children are at risk of dying and hundreds of children, mainly infants, are dying every day.
It's been three months since famine was officially declared in the area known as the Horn of Africa.
Refugee numbers are increasing as families in need of food aid make the long walk to camps in neighbouring Ethiopia and Kenya.
Charities are feeding more than two million people, but it's not just food that the children need.
Malaria caught from mosquito bites is an ongoing threat in Africa, so the UK has sent 400,000 doses of medication.
Many children are also being vaccinated against measles, which can spread quickly when many people live closely together.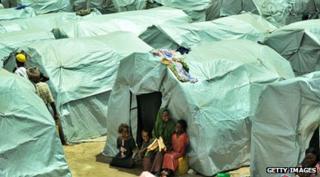 Getty Images
November is expected to bring rain, which is a good thing to help crops grow and begin the drought recovery, but rain can also bring problems.
As the ground is so dry after two failed rainy seasons, the crowded camps could flood, ruining the tents that house thousands of families.
Rain can also encourage the spread of diarrhoea and other dangerous illnesses, as the untreated water will not be safe to drink.
The UK's International Development Secretary Andrew Mitchell believes the crisis in Somalia is far from over for the children living there.