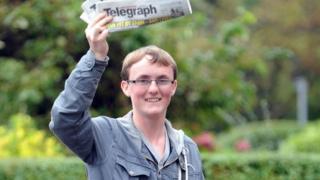 Other
A paperboy who came to the rescue of an elderly lady has won a national award.
16-year-old Luke Ashurst who's from Blackburn, was out on his paper round when he heard cries coming from inside a customer's house.
He went inside and found an elderly lady in lots of pain because she had fallen and broken her hip.
Luke sprung into action remembering the first aid he had learnt, carrying out vital checks on her and making sure she was comfortable.
He called an ambulance and kept talking to her so she would stay awake. He also rang the woman's son to tell him and even tidied up.
After the ambulance arrived, he just carried on with his round and didn't mention anything to the newsagents when he got back.
They only found out when the woman's son called them the next day to say thank you to Luke.
They were so impressed that they nominated him for the News Deliverer Merit Award, which recognises outstanding commitment to news delivery.
Luke won the award and £250 at a big ceremony in London on Wednesday night.