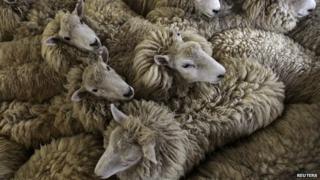 Reuters
Now we all know Shaun the Sheep likes an adventure or two.
But imagine what a farmer in Lincolnshire thought when he woke up to find all 1,500 of his flock missing.
Police were called to the scene and have since arrested two men and a woman for the theft of the sheep from the farmer.
The sheep which included 900 lambs and 580 ewes were stolen from the farm in a "highly organised" raid, police said.
It is thought they were going to be sold on illegally for their meat.
The stolen sheep were estimated to be worth £100,000 when the theft took place.
And sheep theft is not as rare as you might think.
About 33,000 sheep have been stolen in England between January and August this year, police said.